Middle Peninsula
Virtual Heritage Tour

Send us your comments!
As would be expected of an area known as the Middle Peninsula, the region and its history is defined by its connection to the water. The Chesapeake Bay and Mobjack Bays, The Rappahannock, York, Mattaponi, Pamunkey, Piankatank, Poropotank, North, Severn and Ware Rivers, Dragon Run and many other creeks and marshes, are woven into the fabric into of the community. With the exception of the northwestern extents of the Peninsula, it is impossible to leave the area without crossing water. Within the Middle Peninsula itself, most crossings from one county to another involve crossing water as well.
It was the water which formed the initial transportation network, it's presence used for food, to form communities, to move people, to move military, to move products to market, and to bring back essential goods. These waterways also factor in three wars in the history of our nation.
A look at a map today Names of communities and places such as Bowler's Wharf, Capahosic Landing, Horn Harbor, Port Haywood, Twiggs Ferry dot the landscape, reflecting the time when the water was the main method to move people and product. And a time when harbors, steamship and ferry landings lined its shores.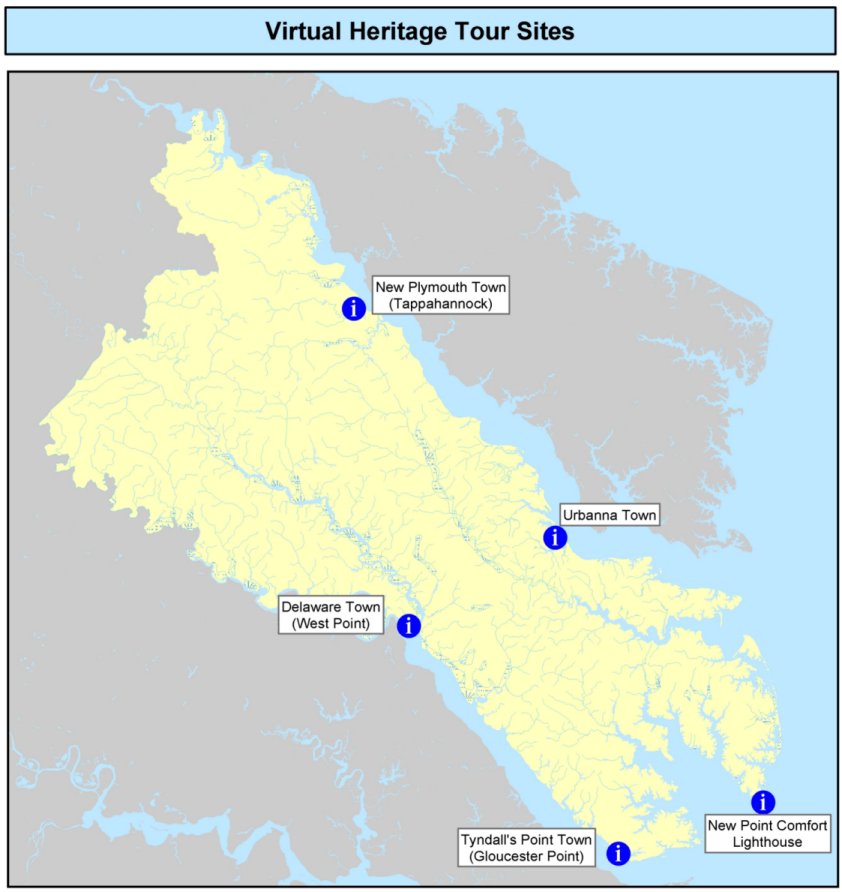 The early development of the region was accomplished through the 1680 Act for Cohabitation and Encouragement of Trade and Manufacture (more commonly known as the New Town Acts) and subsequent acts of the legislature in 1690 and 1706. The legislation was developed to spur economic growth by creating centers of trade to bolster tobacco exports. The act specified a minimum of 20 sites for new towns, 2 in each county. Towns were specified at fifty acres in size. All imports or exports into Virginia were to be through on of the towns.
Five of these towns were designated in the Middle Peninsula. Of those, two are still around today; Urbanna, and New Plymouth (Tappahannock). Two others, while not successful initially, Delaware Town (West Point) and Tyndall's Point (Gloucester Point) are more successful settlements today. The fifth, Queensborough on Ware Neck in Gloucester County, has disappeared probably having never been fully established.

Please click on any of the links below for a virtual tour, including clips, of the sites listed below. Some of the clips may take a while to load depending on your internet connection:
---
Created by The Middle Peninsula Planning District Commission, an agency sponsored cooperatively by
Middle Peninsula Local Governments, the Commonwealth of Virginia, and the Federal Government.